Avocado Egg Rolls are crispy on the outside with an avocado mixture inside that is bursting with flavor! Once these hit the table they don't last long!
We love our avocados and love to think up recipes that are inspired by them. Grilled Steak Fajita Skewers with Avocado Chimichurri, Grilled California Avocado Chicken or Awesome Grilled Salmon with Avocado Salsa are a few more avocado recipes that we enjoy often!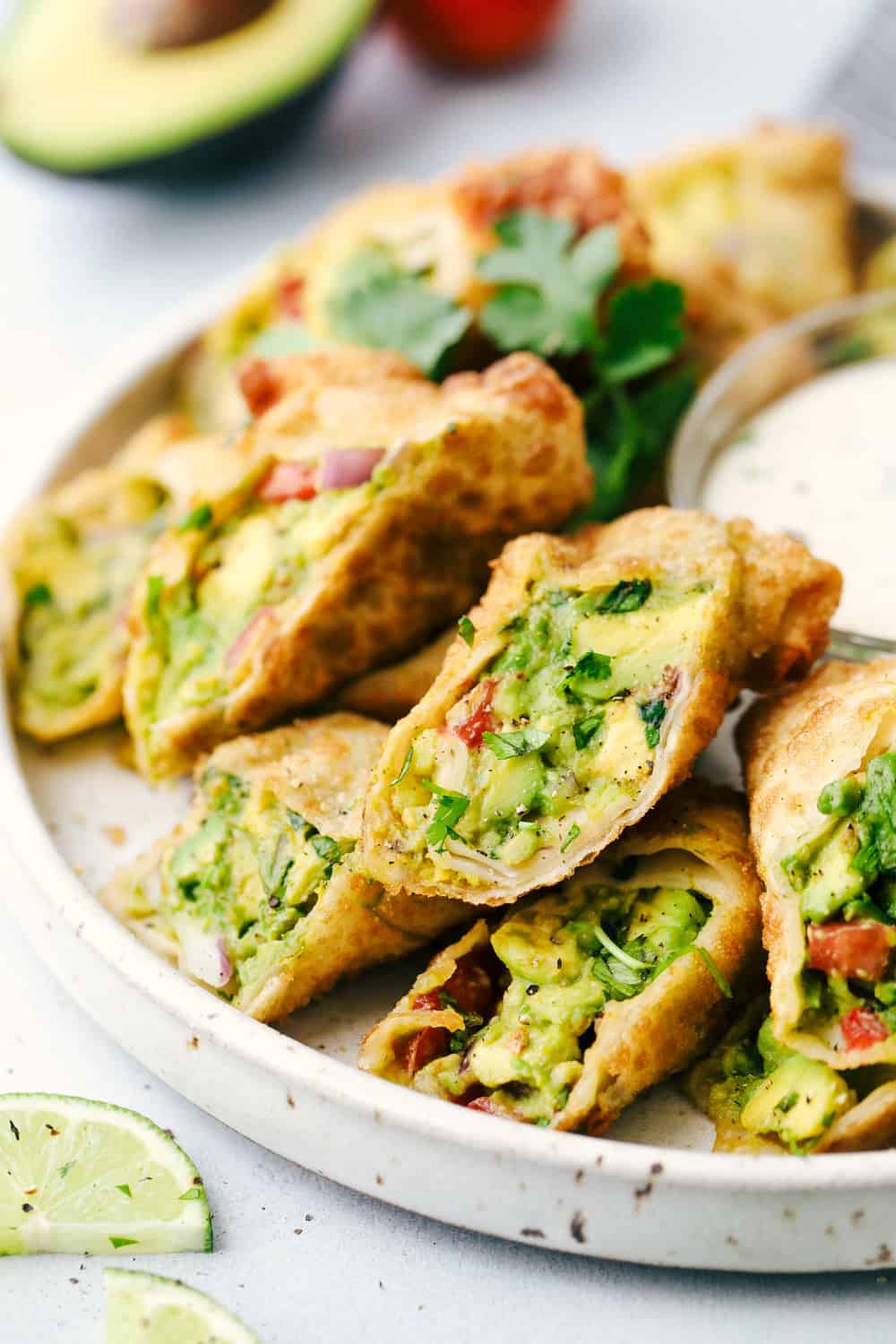 Avocado Egg Rolls
It's game night at our house and we needed a little something, something to enjoy while playing all night long. We love appetizers and making a few things that will last the night away. My boys love avocados and I wanted to make something that would appeal to them and these were on my mind instantly.
We love the Cheesecake Factory and enjoy their food. We always like to add an appetizer at the beginning of our meal and these were on the list to try when we first started dining there. Once we tasted the Avocado Egg Rolls we have been hooked and have a hard time ordering anything else when we are there.
I knew that they had to be made at home so we could enjoy them even more. I love dropping a plate at the table and everyone instantly has a hand in the food. This was one of those moments that everyone was hurrying to get as many on their plate as they could.
These are great dipped in ranch, cilantro ranch dressing or just eating them the way they are. Watch out, they are addicting and won't last long! It is a fun appetizer that has a little crunch, soft, salty and flavorful that makes every bite more and more delicious!
How Do You Make Avocado Egg Rolls?
In a large skillet heat the olive oil to medium high heat.
In a medium bowl, add the avocado and mash to desired consistency. Add the onion, tomato, cilantro, garlic powder, lime juice and salt and pepper to taste.
To make the egg rolls: Place the avocado mixture in the center of each wrapper. Using your finger, rub the edges with water. Bring the bottom edge of the wrapper and roll it tightly over the filling. Fold in the sides and continue to roll up the wrapper and press to seal. Repeat until you have used all of the wrappers.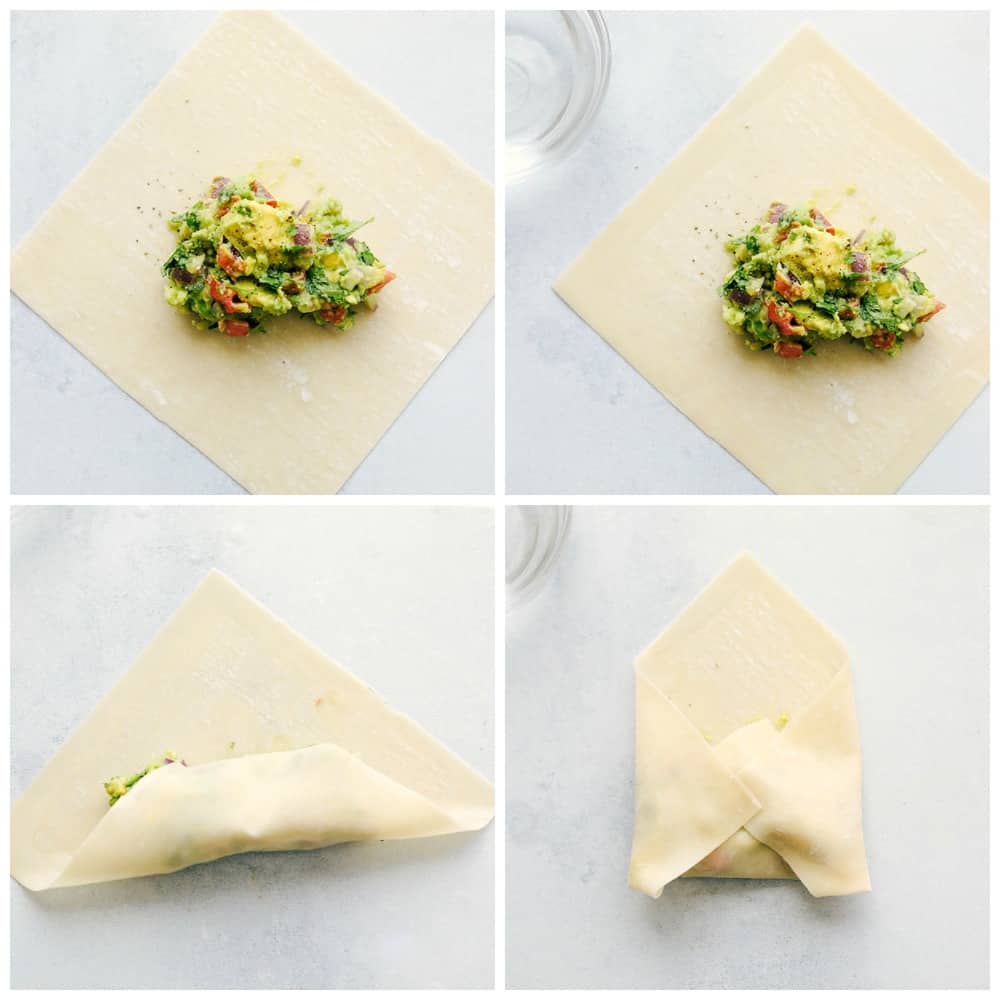 Add the. egg rolls to the hot oil and fry until they are golden brown on all sides for about 2-3 minutes. Remove with a metal tong onto a paper towel lined plate. Serve immediately with favorite dipping sauce.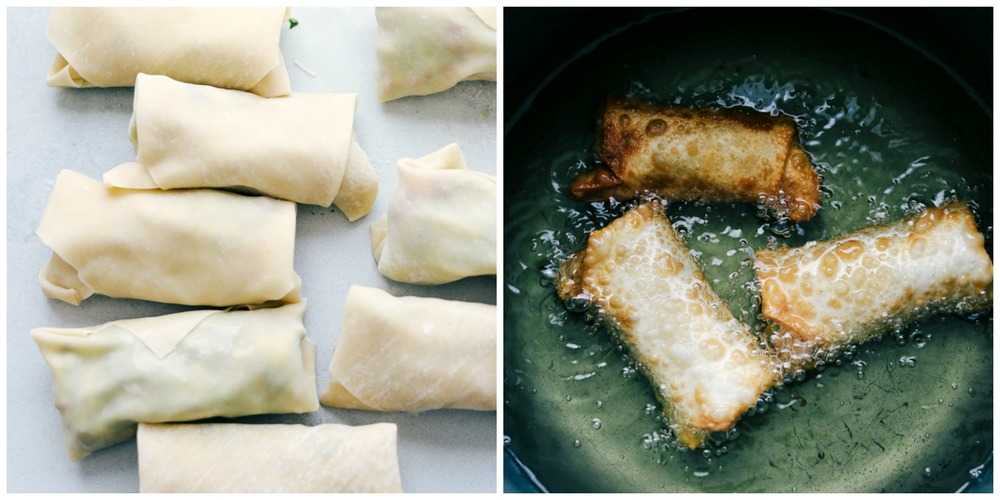 How Many Calories are in an Avocado Egg Roll?
There are 960 calories in 1 serving of Cheesecake Factory Avocado Egg Rolls. Calorie breakdown: 55% fat, 39% carbs, 6% protein.
Can You Prepare the Egg Rolls Ahead of Time?
Freezing both uncooked and cooked egg rolls is pretty easy but in the case of the latter, once cooked, you'll need to give them at least 1-2 hours to cool down before freezing. Generally, you can just take frozen egg rolls out of the freezer and drop them into a deep fryer straight away.
Can You Freeze the Avocado Egg Rolls?
Yes! These are great to freeze after being made. Store in an air-tight container or ziplock baggie. Straight from the freezer to the microwave or oven to warm them up. They will last in the freezer up to 3 months. You do not need to thaw them or place in the refrigerator to thaw once frozen.
What are Egg Roll Wrappers Made From?
Egg rolls are a variety of deep-fried appetizers served in American Chinese restaurants. An egg roll is a cylindrical, savory roll with shredded cabbage, chopped pork, and other fillings inside a thickly-wrapped wheat flour skin, which is fried in hot oil.
What is the Difference Between Egg Rolls and Spring Rolls?
Spring roll however, use only specific kind of layering, while for egg roll, various layerings are used. Spring rolls have a thin and almost translucent flour wrapper but are rarely fried. Egg rolls have a thicker wrapping and are almost always fried.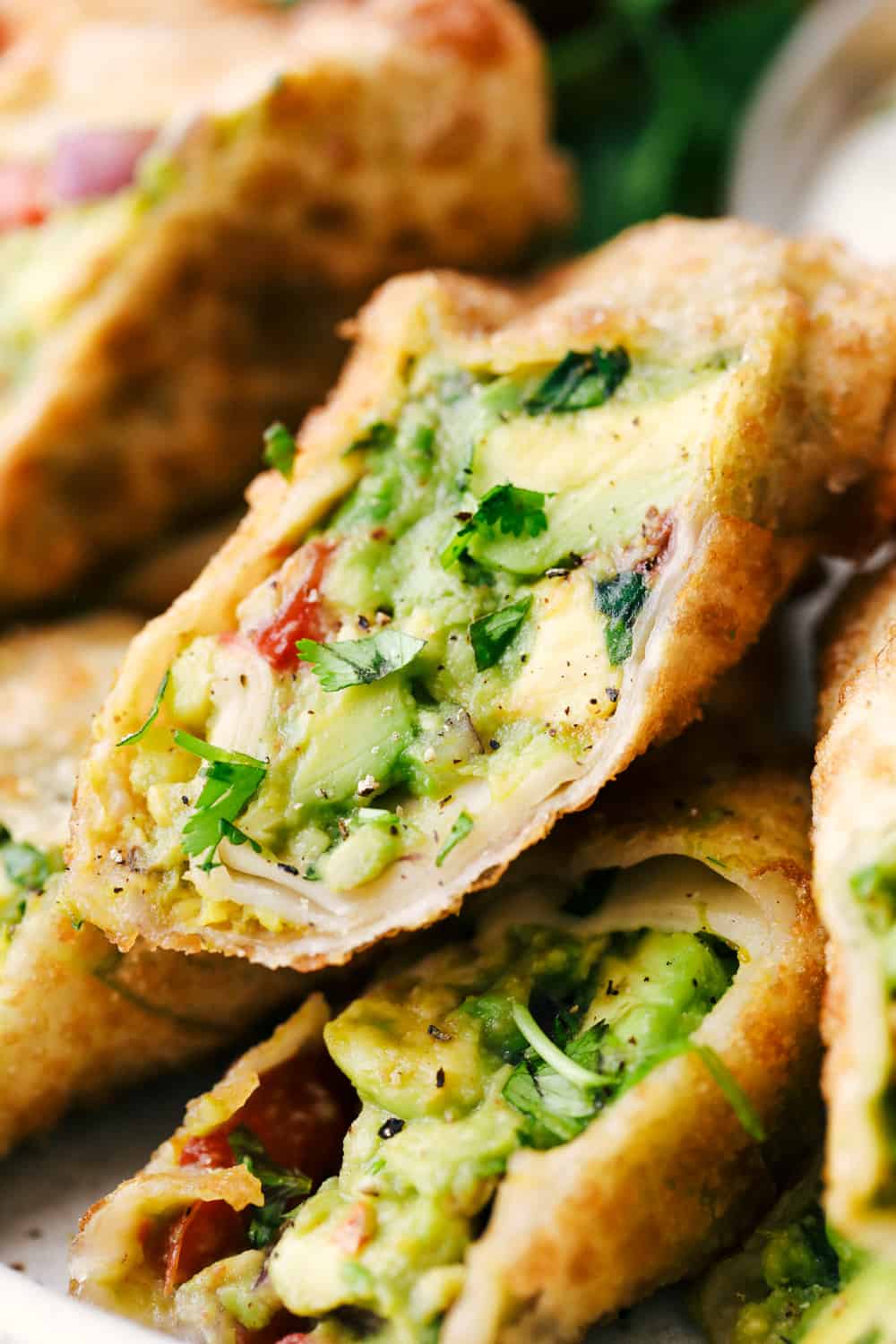 What is the Best Avocado?
If the avocado yields to firm gentle pressure you know it's ripe and ready-to-eat. Ripe, ready to eat avocados may have a darker color but color can vary so it is best to go by feel as well as color. It will feel lightly soft but it will not feel "mushy" to the touch. Ripe fruit is perfect for that day.
How Do I Ripen an Avocado?
Avocados do not ripen on the tree; they ripen or "soften" after they have been harvested. To speed up the avocado ripening process we recommend placing unripe avocados in a brown paper bag with an apple or banana for two to three days until they are ripe. We do not recommend any other method of ripening.
Looking for More Appetizers? Here are More!
Easy Italian Pinwheels
Crispy Baked Parmesan Ravioli
Pizza Stuffed Crescent Rolls
Easy Baked Fontina
Slow Cooker Swedish Meatballs