Blueberry Pie Bombs are rounds of biscuit dough filled with blueberry pie filling, brushed with melted butter, sprinkled with sugar, and cooked in an air fryer! Try my Air Fryer Apple Pie Bombs or Cherry Pie Bombs for more fun treats!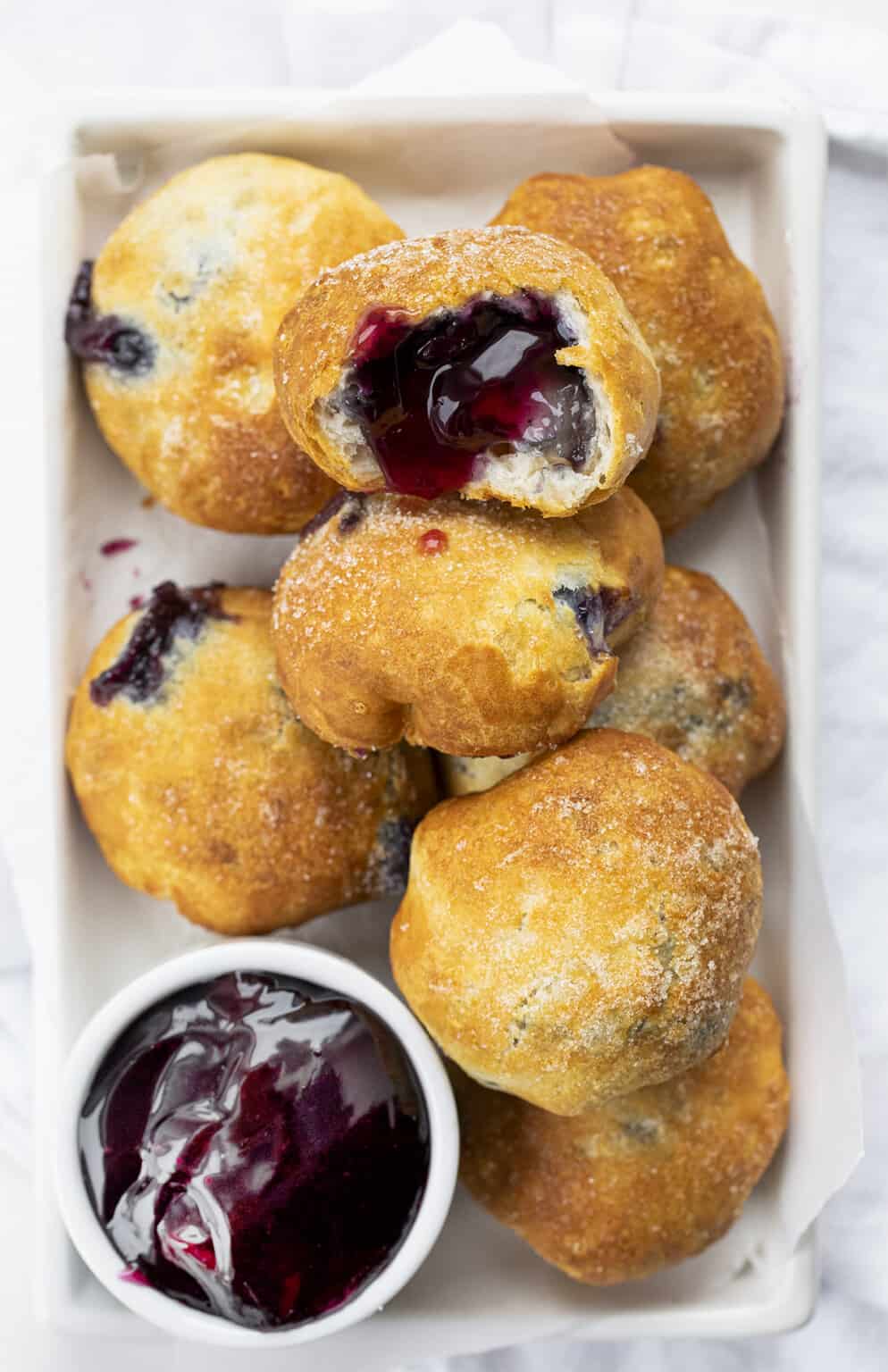 Blueberry Pie Bombs
If you want a burst of blueberry flavor in every bite, these pie bombs are for you! With just four ingredients and an air fryer, you can have a sweet treat that is as easy to make as it is delicious! It's like a blueberry pie without all the fuss of making one!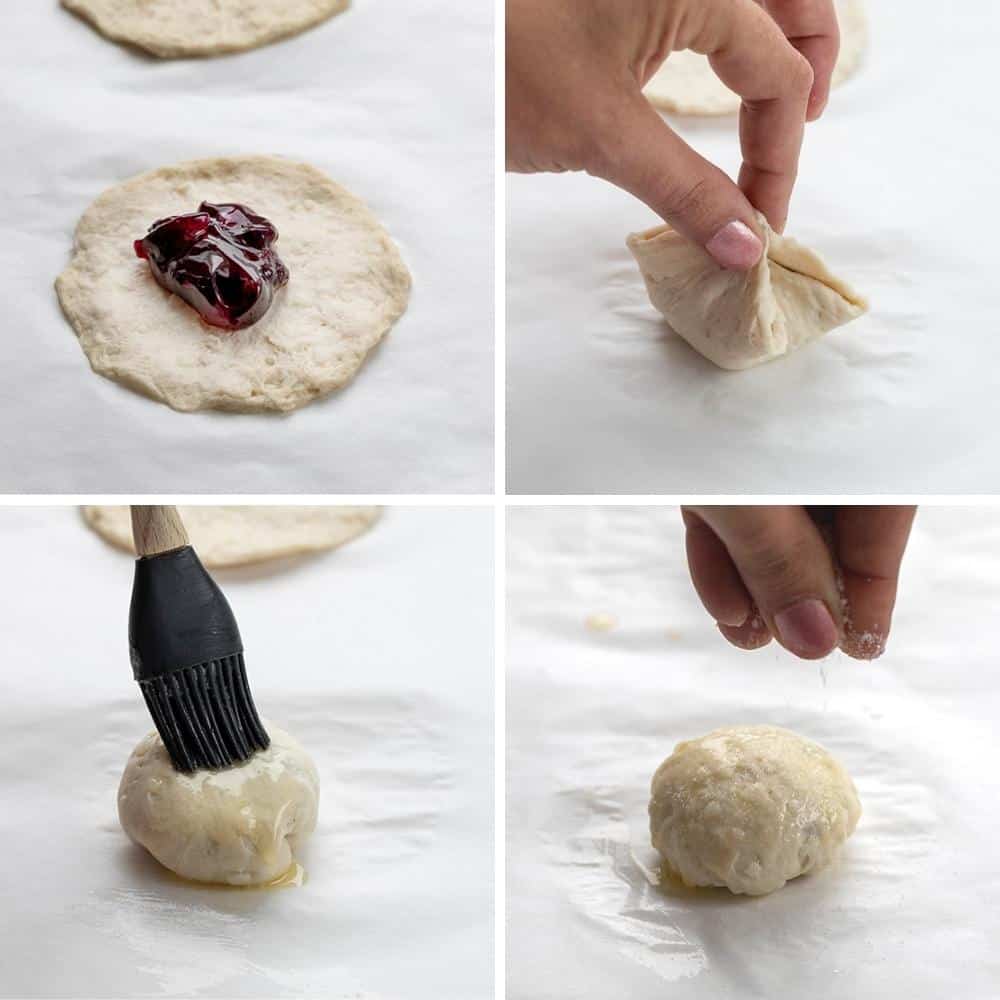 Ingredients
Biscuits: Look for a can of Pillsbury Grand biscuits (not the flaky layers variety). It makes this dessert super easy and they fry up to a nice golden brown color in the air fryer. You could also make these with pie crust dough, puff pastry dough (without the cinnamon), or even crescent roll dough. If you use a different kind of dough, the cooking times may vary a bit.
Blueberry Filling: All you need is a cup of blueberry pie filling. Store-bought and homemade both work great.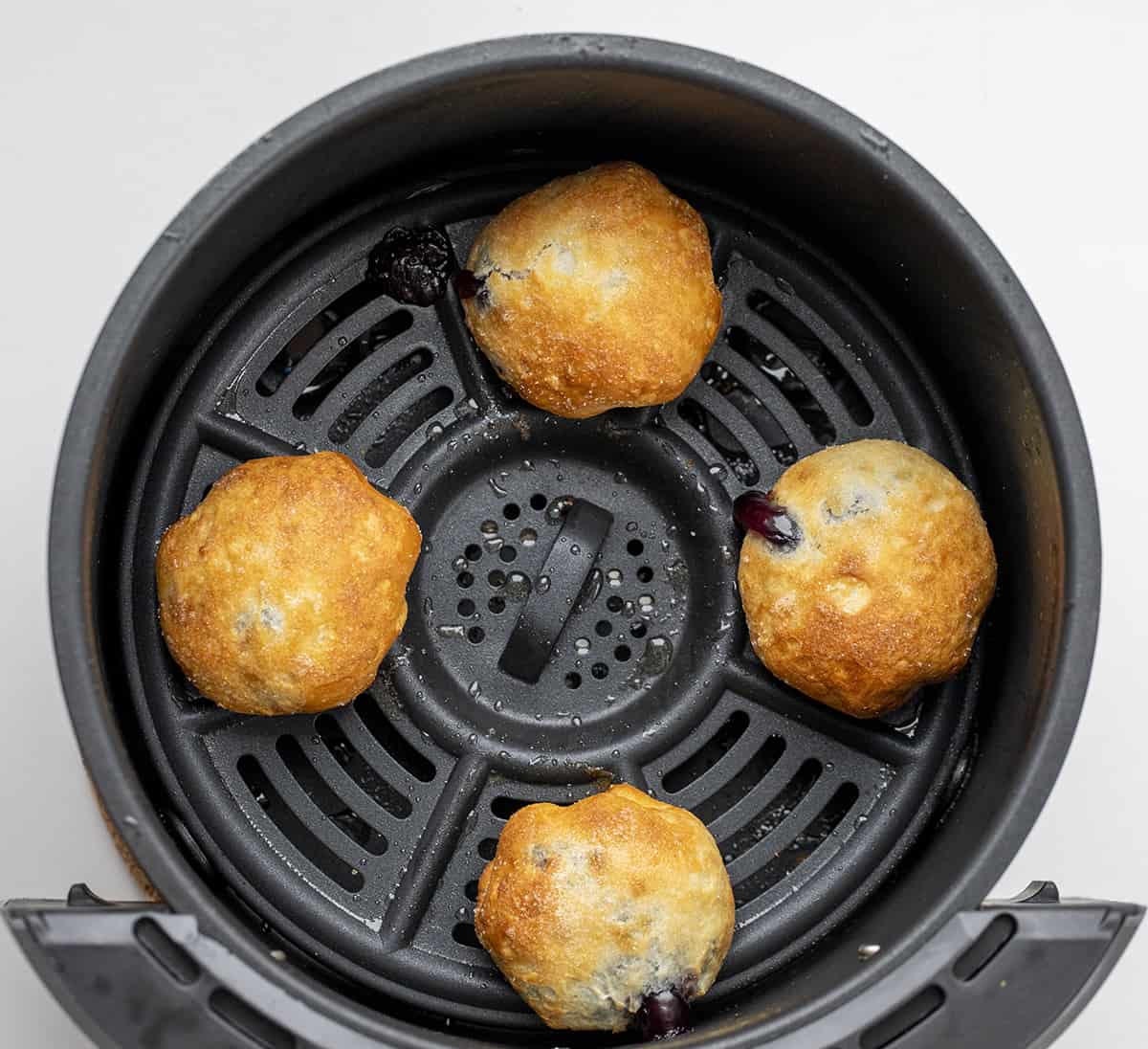 Can I Make Homemade Blueberry Pie Filling?
Yes! If you don't want to use a can of pie filling, you can make your own. Use the filling from my No-Bake Blueberry Pie. You will have some of the filling left over; store it in the refrigerator for up to 5 days.
Can I Bake These in the Oven?
Sure! To bake the bombs in the oven, follow the directions up to adding the bombs into the air fryer. Instead, place them into the cups of a muffin tin sprayed with nonstick cooking spray and bake for 12-14 minutes at 375°F. They will not get quite as golden brown compared to the air fryer, but they are just as yummy!
Can I Deep Fry Blueberry Pie Bombs?
We did not like these deep fried, they tasted like oil and not blueberry.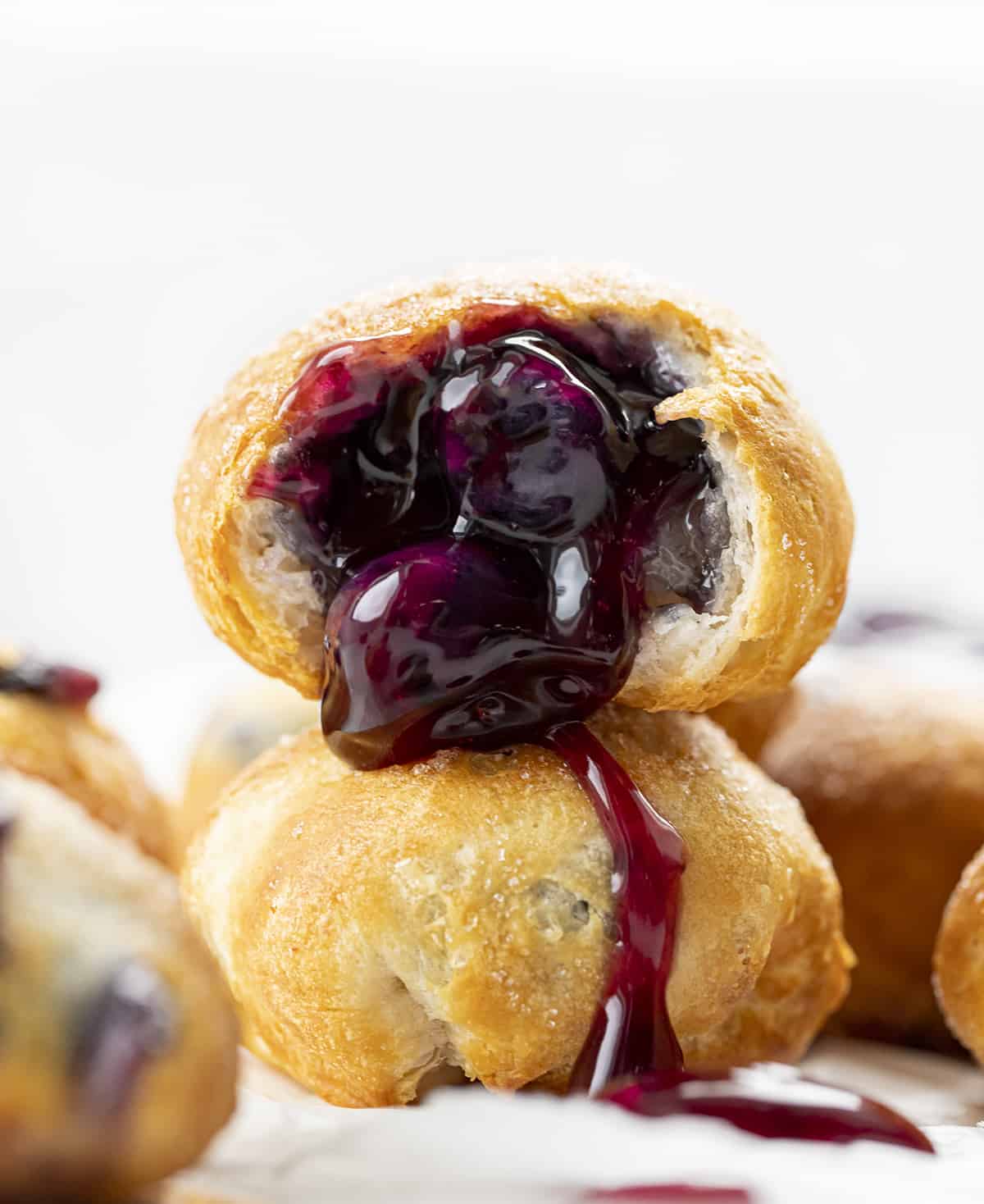 How to Store & Freeze Blueberry Pie Bombs
Cook them as instructed. Then, let the pie bombs come to room temperature. Once at room temperature, store them in the refrigerator in an airtight container for up to 3 days. I recommend heating them up in the microwave before serving; they are best when warm.
To freeze, let the pie bombs come to room temperature. Then, freeze them on a baking sheet until frozen. Once frozen, store them in a freezer-safe bag or container for up to 3 months. Be sure to label and date the bag.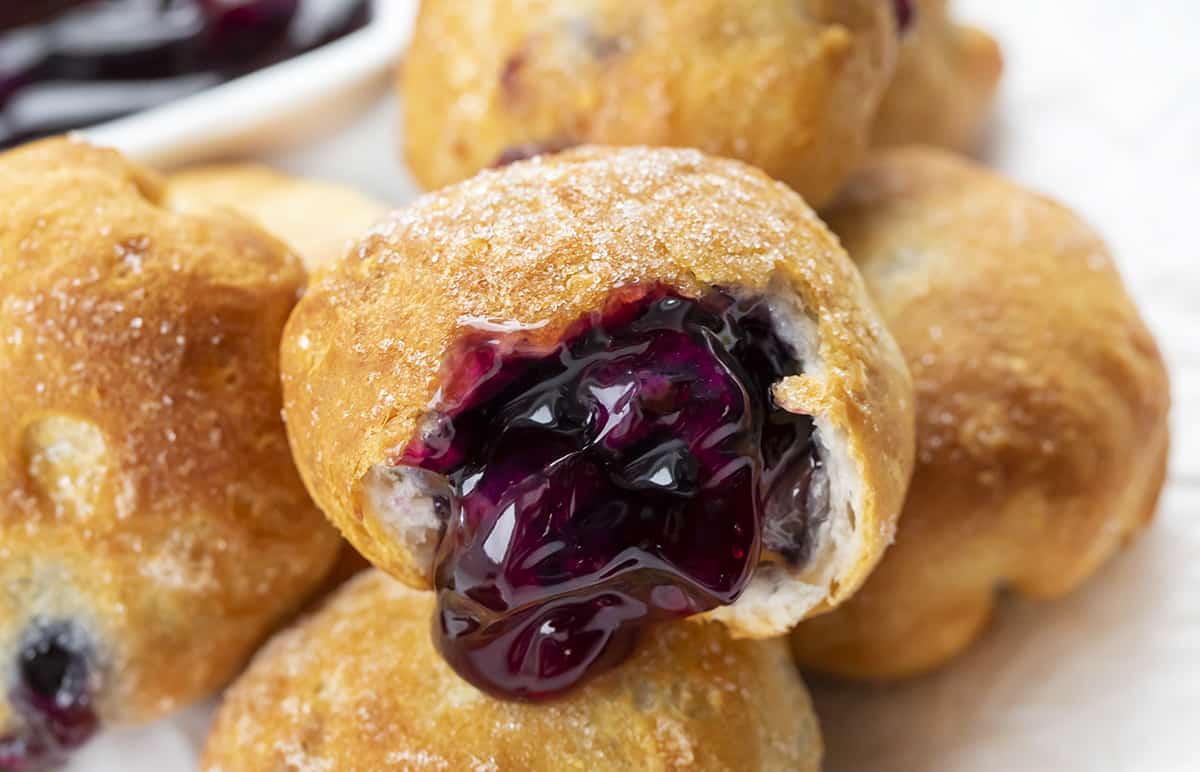 Can I Use a Different Kind of Pie Filling?
Definitely! Use your favorite kind of pie filling to add to this treat. Some of my favorites are peach pie filling, apple pie filling, raspberry pie filling, and cherry pie filling.
Can I Add Cream Cheese to Pie Bombs?
Yes! You can either spread room-temperature cream cheese over each biscuit before adding the pie filling or you can cube cold cream cheese and add a cube (or two) to each pie bomb before sealing.